We do not invent and test our concepts in a vacuum, but in connection with the development of the alternative school Freie Schule Ostfriesland. As we are about to expand the school for secondary schooling, there is a lot to think about and organise. In addition, due to fluctuation of active association members, some "onboarding activities" are pending, i.e. knowledge carriers disappear and new ones new introductions.
For this reason, we have arranged an all-day kick-off meeting with the concept team for the project this weekend, which should enable us to translate our high school vision into tangible work templates and guidelines.
Overview of the planning project
We want to develop a school concept! And that in the shortest possible time - a demanding action. Fortunately we have experience in planning, developing and implementing school concepts and we have a motivated team of learning guides, parents and other experts.
The planning project is self-referential - everything we want from our students, we do ourselves. Everything that we plan for them, we try out for ourselves. And everything we have learned, we can impart with a clear conscience as learned practice and do not have to incorporate textbook concepts.
Analogue
Reflections
Our workshop should not become a screen marathon. We start preparing it well before the date and have sent a few things to the participants so that they can "grasp" it. Not for nothing this word is connected with hands :)
The most important element is our "Guide Map", which has several goals
we want to convey the digital structure of the workshop to the participants in advance,
we want to create a visual with which you can orientate yourself later in the workshop,
we want to inform you in advance about the project rules,
we want to enable participants to find out about the background of the workshop in advance, so that you don't have to start from scratch,
we want a positive working atmosphere through motivated participants
Assets
Our Guidance Pack contains
Memory game on the workshop topics
Preparation plan, see picture.
Gitbook Guide
Video conference cards
Snacks and a non-alcoholic piccolo for workshop catering
Digital
Reflections
In Corona times, remote work is always present. This means digitalization of the entire "value chain". Gaps in this chain potentially lead to the termination of communication and can therefore not be accepted.
This is a big step for some participants, it often takes a lot of courage to try something out or the participants are so busy getting to know the tools that the content takes a back seat. Online change workshops therefore have their own challenges. It is not enough to simply call a zoom conference, invite everyone and hope that the change will happen.
Our digital communication is based on physical workshop layouts by creating a conference location that corresponds to the experiences of the participants. Less is more, so we mainly use a 2D video conferencing solution and whiteboard software. A content management system is available if publishable results have already been produced.
The preparation and checking of accesses and applications is not done on the workshop day, but a few days in advance. This gives us the opportunity for beta testing, can eliminate initial start-up difficulties and - understood as a "dress rehearsal" - give participants more courage to try something than to try it for the first time later in the "real" performance.
When we founded our first school, we experienced that steps into modern working methods are feasible and that in the end everyone was happy to have taken them.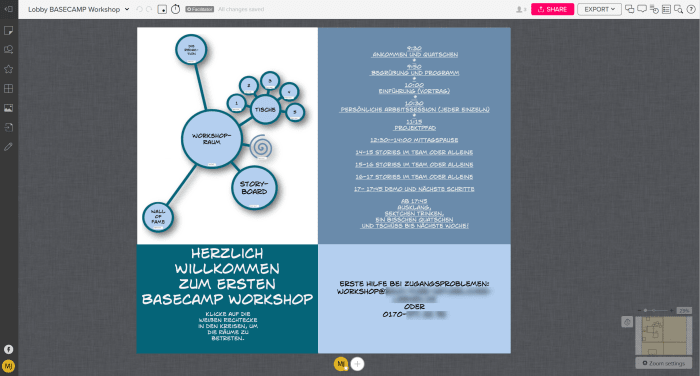 Our digital objects
Google survey in advance to get into the mood, to check the presentation texts and to test the technique
Yotribe: Workshop room (Backup: Zoom conference room with breakout rooms)
Mural: Lobby (see picture)
Mural: Wall of Fame for the participant presentation (page with the queried self-portraits)
Mural: storyboard (kanban)
Mural: Project model overview
Mural: table room (distribution of teams)
Mural: Tables 1-5 (empty whiteboards)
Gitbook: The Editors
Powerpoint: introductory and definition presentations
Openness
This project is public. This does not mean that the world is waiting for our next results page, but it means that our process and its results are comprehensible and can be used by third parties.
We want this because we have had the best experience with open source and we will benefit considerably from this in this planning project.
All artifacts of the planning project are protected by CC-BY 4.0. What this means can be read under LICENSE INFORMATION.
The project book (i.e. the read-only view of the editorial staff) always shows the current work status, which is of course still very patchy after the kick-off.
Procedure
The first part of the workshop went very smoothly. Thanks to the preparations, all participants quickly got to grips with the structure and were able to provide their own input in the task section. Even though we switched to our video backup solution with zoom at short notice, there was no more excitement. Unfortunately, Yotribe could not be used because the video and especially the sound quality dropped much more than with zoom when the participants' Internet connections were poor.
As we know from other concept workshops, the afternoon then led to the collapse of the agenda. We had to discuss for a while before we moderators noticed that the participants had not taken the content preparation very seriously after all and had at best skimmed over the provided material. We then quickly got together again and were able to reconstruct the planned structures with Mural in a quick run through, so that now the context was established. The end of the workshop was very harmonious and we will continue to work on the structures and tasks in the following week.
Conclusion
The tools essentially did what they were supposed to do, with the exception of yotribe described above, which I honestly attribute to the beta status of the service and where it will certainly get better. What doesn't work well are the freestyle Kanban boards in Mural, when several participants work with them. A Trello, Jira, or an integrated Kanban tool will help better and more stable.
To answer the question from the title - all in all the effort was worth it. Our preparations helped the participants to a positive start into the workshop. In the future we would prepare less in terms of content, apparently the motivation or the request for preparation is difficult to convey without asking everyone to participate again and again by e-mail - this was only possible with several follow-ups in the survey. It probably helps to establish synchronous communication with a chat tool in advance so that the participants can be addressed directly.
All in all 👍